JXATU Succeeds in Application of International DOI Registered in China
Publisher:administrator Publish Time:3/4/2015 8:59:28 AM  Views:2897Times
Recently, working with the Service Center of International DOI registered in China, JXATU has become the member of of Service Center of International DOI registered in China (Academic Journals). From the 1st issue in 2015, every published paper would carry an identifier of DOI code on the top left corner. The form of the code should be 10.16185/j.jxatu.edu.cn.2015.01.001.
International DOI(Digital Object Unique Identifier)is a non-profit organization, founded by American Publishers'Association. International DOI Foundation (IDF) was set up under the cooperation of American Corporation for National Research Institute in 1994, which covers videos, reports and books. It forms the ISO international standard and the defacto standard of international digital publishing. Moreover, it is the sole permanent identifier of digital resource in the world, which is characterized as a permanent naming and the explanation of dynamic links.
Joining the service of DOI registration, analysis and links would attract more visitors to view the papers on JXATU and promote the spread, exchange and utilization of the papers at the international platform so as to improve its foreign and domestic influence of the achievements and papers published in JXATU and speed up the modernization, internationalization and digitalization of JXATU.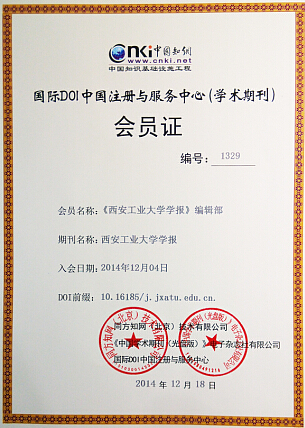 Editor: Miao Jing